Top Virtual Reality Equipment's You Need to Try!
"Before we start this article written by Kehinde Joshua, I want to take a moment and reflect on my previous experiences in dealing with Virtual Reality.
I recently bought an Oculus Quest 2, and although I am incredibly impressed with the amount of innovation and technology infused with this All-In-One VR Headset, I must admit there are still some frustrations and very few options to solve this major physical-to-virtual Locomotive problem that still exists in VR.
Because of that, I talked to Kehinde and told him how huge of a problem this still was, so I had him explore ways in which that would enhance our Virtual Reality experiences.
I didn't stop there, though. I did some of my own research and checked around for alternative solutions that would get us closer to a Ready Player One style Metaverse.
Wecan create expansive ideas all day long, and create multiple Metaverses that all are trying to emulate a Ready Player One style setting, but until we have the appropriate hardware, not just headsets, our ability to stay safely immersed is going to suffer.
I cannot stress safety enough. I was playing Echo VR a few days ago (if you haven't played this game yet, it's incredible, try it out) and I found myself floating fast through the arena.
I extended my hand as high I could extend it in hopes that I would be able to grab the disc frisbee before another player. I saw a player approaching, so I punched him in the face and stunned him (or her, I don't know, these are genderless machines), and I jumped to grab the disc. My hand smashed into the ceiling fan in the physical world which caused me to drop the freaking disc, and another player came in like a wrecking ball and grabbed it. So I'm just floating in the virtual arena with a hurt hand in the real world. Like come on…
I recently downloaded Resident Evil 4 VR for Oculus Quest 2, and it gives you a few options in which to maneuver but all of which are annoying, and I constantly find myself breaking immersion because I get close to my Guardian Boundaries.
Especially when I am in the heat of a battle, and I am struggling to fight off the Las Plagas creatures, I find myself moving every which way. The boundaries constantly expose themselves which causes me to break immersion.
I move outside of the boundary and smash into things which breaks immersion. And then it gets me concerned and worried about staying immersed because of a lack of trust in the existing safety features, which that in itself causes me to break immersion. And finally, when I am sitting still or standing, you get to point to an area and teleport there. But now, I am not immersed at all.
I can't walk, because I hit my boundary. Immersion breaks constantly, but safety is also a major concern if you want to stay fully immersed, too. So what are we going to do about this? Is this the scope of VR hardware? Absolutely not.
These are just a few examples of my frustrations with Virtual Reality right now.
As I mentioned above, I've been doing some exploring myself, in addition to Kehinde's extensive research, and I would like to share a few things with our loyal fans and readers at Meta Know…
I recently had the pleasure of speaking with a Senior Executive behind the popular Omni Directional Treadmill at Virtuix, and they were incredibly helpful in pointing us at Metaverse Secrets in the right direction of a VR Locomotive Solution that will likely be mainstream in the coming years (the executive even gave me access to an $800 course on Virtual Reality for FREE after my conversation with him – did not expect that one).
At the moment, most of the options I have researched from the Kat C to the Infinadex to the Omni have been sold and used for Commercial purposes.
I am still waiting to talk with an Infinadex representative about acquiring a VR Platform and seeing what their representative is going to say, and the Kat C is technically available for purchase now for non-commercial use, but they have a 60 Day Delivery time.
Yeah, so I am going to pass on spending $2,000 (with shipping) to Maybe get a VR platform delivered in March. That's just too long and unreasonable.
So far, talking with an Omni executive opened my eyes on a few things. First of all, their Standalone Flagship model comes out in late 2022, and the starting price is looking like it'll be somewhere around $2,300 as per my conversation with the guy.
Second of all, this got me thinking about alternative solutions until then, which I hope is presented well in this article, because I personally am also curious of making my time in the Metaverse more enjoyable, safe and fun.
Motion sickness is not fun, smashing into things when I'm in the heat of battle is not fun. Presenting a situation where my physical movements perfectly match my virtual movements would be fun, but let's not forget safety. We want perfect immersion with safety, and that's the goal.
I think that is what the Omni One will be when it is available for Non-commercial use later in 2022.
And finally, speaking of the Omni One, and not to go into too many details, but the Executive I spoke to at Omni has given me his contact information and told me to reach back out to him in the summer for a possible partnership with Metaverse Secrets, and we might even be able to get exclusive discounts or pricing for our members.
By then, I suspect we will have a lot more moving pieces and a stronger community, because we would love to offer VR / AR hardware to our community members at reduced pricing.
I am not saying that Metaverse Secrets will have a hardware division, but it is possible. Personally, I am working with a few Welder friends of mine and engineers to put together a Prototype that I will personally use.
If all goes well, we might have cheaper and safer alternatives and sell them on the mass market, but this is a BIG maybe. Right now, I am just toying with the idea and seeing if I can get something better developed for the Metaverse.
I am continuing to fish for new ideas and solutions and seeing what I find, and I hope we can resolve this VR Locomotive issue very soon. I don't care if it's Metaverse Secrets or if it's Omni or someone else.
I just want this issue fixed and for it to be accessible to the general public. This is just one of many ways that the Metaverse will certainly become more mainstream.
Now, without further ado, I'll hand the wheel over to Kehinde and his new amazing article on enhancing your virtual reality experience." – Devon Carey
Walking In VR: Virtual Reality Equipment's To Enhance Your VR Experience
The most common challenge people face when they use VR headsets is detaching from their physical environment so they can enjoy an immersive VR experience.
In This Post
Walking In VR

Use A VR Walking Device

Best VR Walking Devices

Cybershoes For VR Headsets

Holotron Exoskeleton

Omni-directional VR Treadmills (ODT)

Best Omni-directional VR (Virtual Reality) Treadmills
If you're playing a game with your Oculus quest 2 and you pay more attention to avoiding collision with your furniture or not running into the wall then you're not going to have an immersive VR experience.
To address this, VR developers have included features like "teleportation" that will allow users move their Avatars by pointing a controller.
With things being clear that VR headsets may not be enough once the metaverse goes mainstream, Companies with interest in the metaverse such as Nvidia, Microsoft, HTC & Oculus. Are working to improve VR technologies and address the various shortcomings of current VR technological devices and solutions have been proffered to the challenges of walking in VR.
To avoid colliding with things that can cause severe injuries while exploring VR, here are a few things you can do.
 Use a VR Walking Device
When it comes to Locomotion there are various smart devices designed to help users with their movement in VR. Users can cover a great distance without actually moving more than a meter in reality.
They help you with movement, you don't need acres of space to experience Virtual Reality, all you need is a small space in your Living room and you're good to go.
Best VR Walking Devices
Here are some VR Walking aids you might want to consider
Cybershoes For VR headsets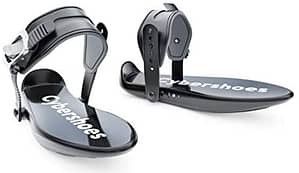 Cybershoes allow you to control your in-game movements by rubbing your feet on the ground or moving your legs on the spot while seated. 
You don't have to walk or run around to control your Artificial movements in your VR device. All you have to do is place your Cybercarpet on the floor, place your designated Cyberchair on it and enjoy an immersive VR experience. 
You don't have to pay for the Cybercarpet & Cyberchair; it all comes with the Cybershoes at an affordable price of $350. The Cybershoes are compatible with all kinds of VR such as Oculus quest 1&2, HTC Vive, HTC Vive Pro and Steam VR.
 When you buy your Cybershoes you get:
1 Pair of Cybershoes
Batteries
1 Cybercarpet (round diameter 60″)
1 Cyberchair
1 White Receiver
3 USB cables.
Price: $350
In addition you can connect your Cybershoes with your VR headsets via Bluetooth. Here's how to connect your Cybershoes with Oculus quest.
Turn on Cybershoes & check that both LED's on the receiver are blinking

Inside QUEST, goto SETTINGS > EXPERIMENTAL FEATURES > PAIR

Then press for 3 seconds the receiver button to enter pairing mode.

Wait for Cybershoes to appear (takes up to 70seconds).

Select and accept PAIR

Last step: Unplug and replug the receiver. This is only needed the first time.

Holotron Exoskeleton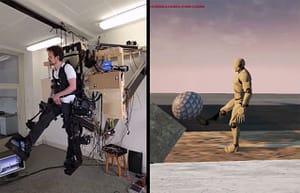 If there's one thing that sets apart Holotron exoskeleton from other VR walking devices, it is the ability for a player to feel what their Avatar feels in-game.
Holotron is made of a wall-mounted Stewart platform as motion simulator and a strong, lower body exoskeleton with two motors for each leg.
Holotron depicts man-computer interaction, as the full-body exoskeleton let's you have the same experience your Avatar has in the game. The motion simulator moves you just like your avatar is moving and gives you feedback.
The Holotron device currently hangs from a large wooden board as it's still in its prototype form. 
In addition the current cost of development of the prototype is about $65000 which is quite expensive. But further updates on the VR device will address these issues.
Omni-directional VR Treadmills (ODT)
VR treadmills are Omni-directional Locomotion devices, created so that users can move in any direction, walk, run and jump in an obstruction-free physical environment while being able to cover a large distance in their VR environment. 
A VR treadmill holds you in place with the aid of a waist belt strapped to your body, while your feet slide across the treadmill, and that natural movement gets translated into an immersive VR experience.
Best Omni-directional VR (Virtual Reality) Treadmills
Virtuix Omni One

The  Omni One is a VR treadmill designed for Playing games, military training and sports training. Users are strapped to a suit then walk along the surface of the round disc-shaped base of the treadmill and achieve freedom of movement, such as Jumping, crouching, kneeling & backing up in Virtual Reality while still being on the treadmill.
At a price of $1995 the Omni One comes with a standalone VR headset, a body suit in place of a waist belt so as to aid comfort. 
It also has its own game store, with more than 30 titles at launch developed specifically for the Virtuix Omni One.
However for $995 you can get the developer kit but that will come without a VR headset and access to the Omni game store.
Cyberith Virtualizer Elite 2
Cyberith Virtualizer enables convenient full-body movements in a Virtual Reality environment, the Locomotion device's motion platform is highly responsive to movement and the physical effort needed for walking in VR is strongly reduced and can be adjusted individually via a single button.
The automatic safety function ensures maximum safety of the user. Whichcan be deactivated, to allow for maximum freedom of movement.
Features
Adjustable Harness System.
Flexible Overshoes.
Sensor System including Motion Sensor, Rotation Sensor & Height Sensor.
Cable Guiding System.
Vibration Unit (For providing feedback to the user)
The Kat Walk C is an Omni-directional treadmill designed for gamers, the VR Locomotion device is a compact design compared to other KatVR treadmills.
The treadmill has an adaptive harness that enables unrestrictive movements and allows jumping, walking, running, kneeling, crawling and other movements to provide a natural & comfortable VR experience to the User.
The platform and the Shoes have also been designed so that Players can walk with a natural gait and adjust the level of friction based on their experience using a VR treadmill. 
Features
Adjustable Friction Level
Compatible with various types of VR headsets.
Home-Optimized.
Sensors (Signal range of 3 meters)
Supports All VR Games With Free Locomotion Support.
User weight limit 130kg
Price: $1299
Launched at the VR World Congress in 2017, the ROVR 2 is an Omni-directional treadmill that comes without a body suit or an harness, this is aimed at allowing users freedom of movement  and eliminating the risk of motion sickness. 
 The ROVR 2 is compatible with VR headsets & PC's and can be used to play games or for exercises. 
Features
Low friction technology for effortless movement in VR.
Suitable For Health and Fitness.
Waist High Containment Frame.
Specialized Slick Shoes.
Connectivity Jack. 
Downloadable vorpX.
Steam compatibility.