How to Rent Land and Properties in Metaverse
I recently tried to buy Land on Sandbox, after doing some research I discovered that the least I could get a parcel of Land was $13,000 but I didn't have that kind of money. However I made further inquiries to see if there's a way I could pay less to buy land on Sandbox. Which is when I discovered the alternative way of Renting Virtual properties from other users, without having to buy an entire plot of land or a whole building.
Platforms such as Decentraland and Sandbox allow users to purchase land, which is held in their wallets in the form of NFTs. Buying a parcel of land on Decentraland will cost you at least 4500 MANA which is currently $14000. 
This high cost of buying land in the Metaverse has raised questions whether the Virtual world is only for the High class members of human society.
However, if you can't afford these prices, or you want to use the land for a short period like for a Virtual party and you can't afford to pay Thousands of dollars just to host a party on the Internet. Here's how you can actually rent Virtual properties if you're unable to afford an entire parcel of Land in the Metaverse.
Contact Users/ Landowners
This is similar to how Lands and Buildings work in the real world where a seller lists their Lands for sale or Rental at a price and buyers negotiate with the sellers to rent parts of the land, rooms or even entire buildings.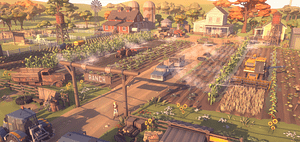 In the Metaverse, the owner will ask for a certain price and then you will negotiate a price. The value of the land is also dependent on the location of the land. Connect with Users who have purchased land through Metaverse services and ask them to lease their land to you for a given period of time at a price.
There are Landowners in Metaverse platforms such as Decentraland, willing to rent out their own land for other users to build houses, amusement parks, shopping malls, develop and host Games. While they earn commissions for the usage of their land. 
Apart from their Marketplace and NFT peer-to-peer platforms. The Metaverse platforms have social media pages and groups where their users interact and share Ideas through which you can connect with Users who want to rent their land to other people.
Also read: Step by Step Mastery of The Sandbox Metaverse: Play, Earn, and Enjoy
Top Metaverse Platforms Where You Can Rent Virtual Properties
Decentraland is an open source virtual world platform built on Ethereum Blockchain. Users can buy virtual plots of land on the OpenSea platform, (which is a peer-to-peer marketplace for NFTs) as NFTs with MANA, the official cryptocurrency of Decentraland. 
Each land parcel is a Non-fungible token (NFT, ERC 721) which means it is unique and cannot be forged or duplicated.
Through the Decentraland marketplace; Users can Invest in Real estate, create virtual Properties such as Concert halls, casinos, Trade centers, art galleries and host virtual tours, and charge other users to visit them at a price.
You can rent land and other virtual properties on the official Decentraland Marketplace with MANA Token, or via OpenSea with MANA token and Ethereum coin for gas fee.
The Sandbox is a Virtual world, built on Ethereum Blockchain where users are allowed to Buy land, create and sell virtual assets and play games on the Sandbox marketplace.
The plots of land for sale on the Sandbox metaverse are sold in the form of NFTs and cannot be forged or duplicated.
To rent Land on Sandbox you'll need $SAND, the official cryptocurrency of the Sandbox platform. You can then use the $SAND and Ethereum coin (for gas fee) to execute transactions on the Sandbox marketplace or OpenSea. 
There are a total of 166, 164 Lands in the Sandbox Metaverse
TCG World is a Virtual metaverse game where users can play games to earn rewards in TCG Coin. Players  join live collectible card game tournaments in the metaverse (where both players and the spectators will assemble in the amazing TCG World Stadium).
Users can also hunt for NFTs, Buy virtual land, build virtual houses, casinos, malls, concert halls, Host games, create art galleries, explore the virtual world and work.
TCG World has a trading Platform, a marketplace for buyers and sellers of  NFTs collectibles, gaming and sports cards such as Pokémon and Yu-Gi-Oh.
Tcg World has over Ten thousand members and One hundred thousand plots of land, split into four regions. You can sign up on their website, create an Avatar and enjoy the Metaverse experience.
Users can lease their land to developers and other users who may want to develop or host games on the land. Each of the 100,000 plots of land is sold to users, in the form of an NFT that you will hold in your own crypto wallet.
To rent land on TCG World simply navigate to TCG.world using your browser. Then connect your Cryptocurrency Wallet (Trust Wallet or Metamask), contact a user through the TCG.world marketplace and negotiate on the monthly fee you'll be paying to rent their land.
Earth 2 is a virtual version of the Earth where Users can buy and sell virtual land. Earth 2 Property is divided into Class 1, 2 and 3. As more people purchase land, Landowners get paid a percentage of the amount for owning land. They can then decide to withdraw or use to buy more land.
However the income tax you earn as a User depends on the class of your property. Users can also monetize their land, by leasing it out to other people to build virtual properties and Infrastructures. Join their Social media groups and connect with Users who want to rent their land.
Founded by Gabor Retfalvi, Next Earth is a Polygon Blockchain based Metaverse Platform where you can buy and sell Virtual land. 
The Lands are tied to NFTs, that are already minted representations of the digital land. You can buy land tiles with Matic coin (the official coin of Polygon Network), but you have to set-up the Polygon (MATIC) network in your Cryptocurrency wallet. 
Unlike Decentraland and Sandbox, you can buy a plot of land for as little as $200 on Next Earth. This means the amount for Rentals will be relatively cheap though it depends on the location of the land. To buy or rent land visit the Next Earth marketplace http://nextearth.io or buy on OpenSea.