Web 3.0 Coins List: Best Web 3.0 Coins To Buy Now
Web 3.0 has been a trending and interesting topic in the universe. It's been going mainstream just like a similar buzzword that showcases the potentiality and concept of blockchain technology – NFT & Metaverse.
The controversy among top tech giant CEOs (likes of Elon Musk, Jack Dorsey, etc.) has shown a strong indication of interest in Web 3.0, and it is considered to be the next big thing.
While the concept of web 3.0 is still considered speculation, we have seen a variety of project that fulfills web 3.0 ideology.
Value Included:
Brief History Of Internet
Web 3.0 Coin List
Best Web 3.0 Coin To Buy Now
In this article, we will discuss the web 3.0 coins list, I will list out a few cryptocurrency coins that might be the best web 3.0 coins to buy now.
Wait, before then, it's very essential to go through a brief history of the web, to make this article informative and educative. Even if you already understood web 3.0, it is crucial to have a recap!
Brief History Of The Internet
There have been constant changes in our everyday life, and most especially, technology is experiencing major growth and continuously advancing.
How we use the internet today is very much different from how it's been utilized in past years ago. The internet is evolving, starting from web 1.0 to web 2.0 which is the current internet we're using today.
The inception of the internet and integration of the web commence at web 1.0, whereby users come and read content on the internet while the content creators were the developer of the websites that contain the content. It is usually formatted as text and image only.
Web 1.0 is considered a "Read Only" web as it consists of static content, it has no interactive feature for internet users.
While web 1.0 only allows consumers/users to do a limited thing on the internet, a need for advanced web technology was brought in, which conceptualizes the integration of web 2.0.
Web 2.0 is the current web technology that allows anyone to be a creator, every user can create content on the web. It also allows for interaction with content and information that internet users read online.
Currently, there's cause for alarm regarding web 2.0, because users' data are not secured as it's been held by the tech giant, which might be stolen or sold out.
The internet users also believe that their involvement and engagement on these platforms is the major factor for the growth of the company, hence, they should be rewarded for their efforts.
Web 3.0 is the major solution to the cause for alarm, whereby the internet is controlled only by users and there will be more incentives for using the internet.
Related Topic: What Is Web 3.0 – Understanding The New Internet Iteration
Web 3.0 will be a distributed and decentralized internet, whereby users can navigate and socialize across the internet without their data being controlled by a central entity.
 Web 3.0 Coins List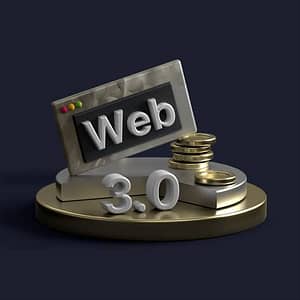 Now, you may want to ask, must cryptocurrency have to be associated with the internet?. Web 3.0 is a revolutionary web technology that enhances permissionless, trustless, and distributed internet hence, these captivating features can't be fulfilled without the need for blockchain technology.
As we know, blockchain is the underlying technology of cryptocurrency, a cryptocurrency is a major currency that is associated with a web 3.0 project or platform that will be used as the utility and incentives within the ecosystem of the platform.
A few web 3.0 coins list are mentioned down the line with their market capitalization and market price at the time of this writing.
Market Cap: $22.3B
Current Price: $22.6
Exchanges Listed: Coinbase, Binance, Kucoin, Huobi Global, FTX, etc.
Market Cap: $9B
Current Price: $19.63
Exchanges Listed: Coinbase, Binance, Huobi Global, FTX, Kucoin, etc.
Market Cap: $3.8B
Current Price: $25
Exchanges Listed: Binance, OKX, Huobi Global, Coinbase, Bitget, CoinTiger, and Bybit.
Market Cap: $2.9B
Current Price: $27
Exchanges Listed: Binance, FTX, Bybit, KuCoin.
Market Cap: $3.9B
Current Price: $4
Exchanges Listed: Huobi global, Binance, OKX, Bybit, etc.
Market Cap: $2.5B
Current Price: 0.0026
Exchanges Listed: Huobi Global, Bybit, Bitget, etc
Market Cap: $2.2B
Current Price: $0.47
Exchanges Listed: Coinbase, Binance, Huobi Global, Kucoin.
Market Cap: $496M
Current Price: $2.2
Exchanges Listed: Binance, Kucoin.
Basic Attention Token (BAT)
Market Cap: $1.3B
Current Price: $0.9
Exchanges Listed: Coinbase, Binance, Bybit, etc.
Market Cap: $1.2B
Current Price: $38.3
Exchanges Listed: Binance, Huobi Global, Kucoin, etc.
Market Cap: $577M
Current Price: $0.011
Exchanges Listed: Binance, Kraken, Huobi Global, etc.
Market Cap: $605M
Current Price: $28.6
Exchanges Listed: Coinbase, Binance, Huobi Global, Bithumb, etc.
Also read: 10 Best Ways To Make Money From Your Land In The Metaverse
Best Web 3.0 Coins To Buy Now
According to the research conducted, below are the web 3.0 coins that you can buy now for future gains. Most especially, when web 3.0 goes mainstream.
Chainlink (LINK)
Chainlink was founded in 2017, it is a blockchain abstraction layer that enables general connected smart contracts, Chainlink allows blockchain to securely interact with exterior data feeds, events, and payment methods through a decentralized oracle network. While providing the critical off-chain information needed by complex smart contracts to become the prominent form of digital agreement.
Chainlink network is steered by a large distributed community of data node operators, developers of smart contracts, security auditors, data providers, etc. Chainlink prioritizes making participation in the network to be open-source while guaranteeing decentralization for users that looking to contribute to the network and node operators.
Filecoin (FIL)
Filecoin is a peer-to-peer network that stores files, with built-in financial incentives to make sure that, files are stored reliably over time.
Filecoin lets users pay to store their files on storage miners. These Storage miners are computers that are responsible for storing the files and proving they have stored the files correctly over time.
Anyone who wants to store their files or get paid for storing other users' files is allowed to join Filecoin. Availability and price of the storage are not controlled by any central corporation, Filecoin facilitates open markets for the storage and retrieval of files with which anyone can participate in.
Filecoin comprises a decentralized data storage marketplace, data storage, protocol, and cryptocurrency to make the web more secure and efficient.
Filecoin utility and native currency (FIL), is used to reward miners for storing files.
Polkadot (DOT)
Polkadot is considered a protocol that provides a foundation for a decentralized internet of blockchains, generally known as Web3.0.
It enables cross-blockchain transfers of any type of data or asset, Polkadot enables interoperability with a wide variety of blockchains in the Polkadot network.
The most appealing feature of Polkadot is that it allows anyone to customize blockchain in minutes on the Polkadot network using the Substrate framework. Other chains can also be connected to the Polkadot network to enhance interoperability and security.
Helium (HNT)
Helium (HNT) was launched in 2019, it is a decentralized blockchain-integrated network for the Internet of Things (IoT) equipment.
Helium allows low-powered wireless devices to articulate with each other and send data across its network of nodes.
The nodes are in form of Hotspots, which are a combination of a wireless gateway and a blockchain mining device. Users who operate these hotspots thus mine and earn rewards in Helium's native cryptocurrency token, HNT.
Helium's major goal is to prepare IoT communication for the future, recognizing inadequacies in the current infrastructure.
BitTorrent (BTT)
BitTorrent is a popular peer-to-peer (P2P) file sharing and torrent platform, it was launched in 2001 while it was purchased by Tron foundation in 2018 to showcase its true potential, and it has become increasingly decentralized in recent years.
Since then, there have been various new tools added in the BitTorrent ecosystem with its native and utility token – BTT.
Basic Attention Token (BAT)
BAT is the token that powers the blockchain-based digital advertising platform that is developed to reward users for using the platform, while also providing advertisers with a better return on their ad spend.
The concept was initiated by Brave Browser, which allows users to earn BAT for watching privacy-preserving adverts.
The Basic Attention Token – BAT is the unit of reward in this advertising ecosystem, it is exchanged between advertisers, publishers, and users. Whereas Advertisers pay for their advertisement in BAT tokens, with which a small portion out of the advert budget is distributed to advertisers, while 70% is distributed to users — whereas the intermediaries that generally drive up advertisement costs are cut out of the equation to improve cost-efficiency.
Related Topic: Best Metaverse Crypto Coins To Buy In 2022
In conclusion, you should know that this article is not a recommendation to buy any coin, neither should it be considered financial advice. Cryptocurrencies are volatile assets, you're solely responsible for profit/loss incurred from an investment made on any of the aforementioned crypto coins.